The trick to making a dense and fudgy brownie, besides reducing the amount of flour and using no artificial leavener (baking powder/baking soda), is to incorporate as little air as possible when mixing the batter. So, instead of pulling out the electric mixer we are just going to mix the ingredients together in one bowl with a wooden spoon. The result is a nicely compact brownie with a dense and fudgy texture. Once the brownie batter is in the pan (we do keep some brownie batter for later) we top it with a cheesecake filling. The main component in a cheesecake is cream cheese, that white, soft and spreadable cheese with a slightly tangy flavor. It has a 33% butterfat content so its texture is wonderfully smooth and creamy. The one thing you do need to keep in mind is that cream cheese needs to be at room temperature before it is beaten so it will be nice and smooth with no lumps. Then we add a little sugar, an egg, and some vanilla extract for texture and flavor and after gently spreading it over the brownie layer, there is only one thing left to do. And that is to place small dollops of that leftover brownie batter over the cream cheese filling and then running a knife or wooden skewer through it all to give a nice marbleized effect. You can eat these squares the same day as you make them, but I prefer refrigerating them overnight as this gives the flavors time to soften and mingle.
These are quite possibly my favorite brownie. Soft & Chewy, nobody can resist them!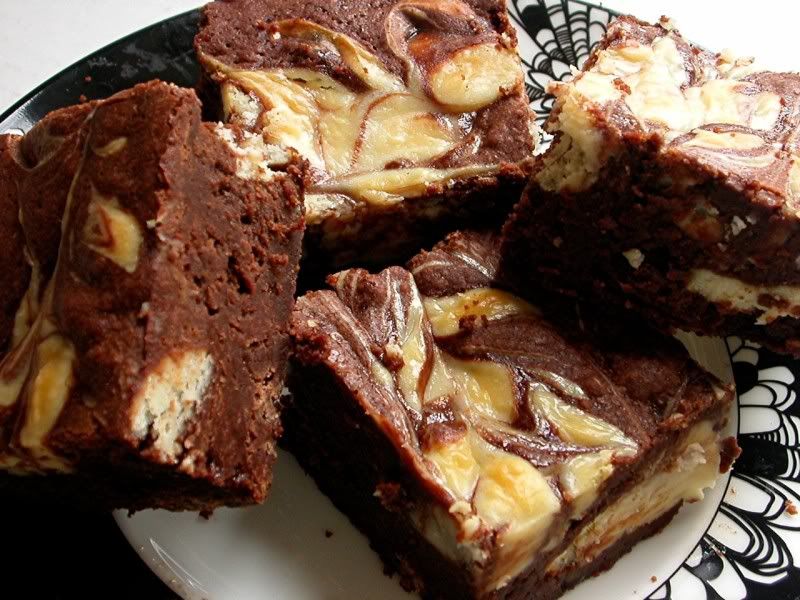 Brownie Layer
:
1/2 cup (113 grams) unsalted butter, cut into pieces
4 ounces (114 grams) unsweetened chocolate, coarsely chopped
1 1/4 cups (250 grams) granulated white sugar
1 teaspoon pure vanilla extract
2 large eggs
1/2 cup (65 grams) all purpose flour
1/4 teaspoon salt
Cream Cheese Layer
:
8 ounces (227 grams) cream cheese, at room temperature
1/3 cup (65 grams) granulated white sugar
1 teaspoon pure vanilla extract
1 large egg
PREP:
Preheat oven to 325 degrees F (160 degrees C) and place the rack in the center of the oven. Have ready a 9 x 9 inch (23 x 23 cm) square baking pan that has been lined with aluminum foil across the bottom and up two opposite sides of the pan. Set aside.
In a stainless steel (heatproof) bowl placed over a saucepan of simmering water(Bain Marie), melt the butter and chocolate. Remove from heat and stir in the sugar and vanilla extract. Add the eggs, one at a time, beating well (with a wooden spoon) after each addition. Stir in the flour and salt and beat, with a wooden spoon, until the batter is smooth and glossy and comes away from the sides of the pan (about one minute). Remove 1/2 cup of the brownie batter and set aside. Place the remainder of the brownie batter evenly into the prepared pan.
Then in the bowl of your food processor (or with a hand mixer), whip the cream cheese until smooth. Add the sugar, vanilla, and egg and process until creamy and smooth. Spread the cream cheese filling over the brownie layer. Spoon small dollops of the reserved brownie batter evenly on top of the cream cheese filling. Then with a table knife or wooden skewer, swirl the two batters without mixing them.
Bake in the preheated oven for about 25 minutes or until the brownies start to pull away from the sides of the pan and the edges of the brownies are just beginning to brown. Remove from oven and place on a wire rack to cool. Refrigerate the brownies until they are firm enough to cut into squares (at least two hours). Once chilled, remove the brownies from the pan by lifting with the ends of the foil and transfer to a cutting board. With a sharp knife, cut into 16 squares. It is a good idea to have a damp cloth nearby to wipe your knife between cuts. These brownies can be stored in the refrigerator for several days.
Makes about 16 - 2 inch squares.