This is my favorite dessert of all time. Rich, velvety, creamy, and SO MANY VARIETIES. The possibilities are endless. The best kinds are the ones with liqueurs. (Of course!) Try different variations of coatings. Crushed nuts, candy, shaved chocolate, white ganache, coconut, cocoa powder, nutmeg, chiles, etc etc etc... Go Apeshit! I know I will! ;P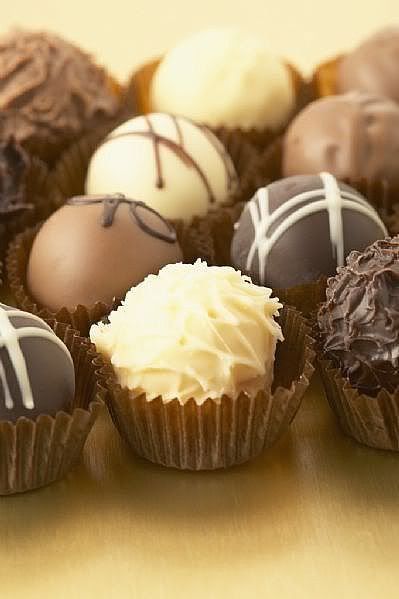 Truffles
:
8 ounces (227 grams) semisweet or bittersweet chocolate, cut into small pieces
3/4 cup (180 ml) heavy whipping cream
2 tablespoons (28 grams) unsalted butter
2 tablespoons alcohol (Cognac, brandy, Grand Marnier, kirsch, rum, bourbon, or Kahlua to name a few) (optional)
Different Coatings for Truffles
:
Dutch-Processed Cocoa Powder
Confectioners Sugar (Icing or Powdered)
Toasted and Chopped Nuts (pecans, walnuts, almonds, hazelnuts)
Toasted Coconut
Shaved Chocolate
For Chocolate Cups
:
1 - 3 ounce (85 grams) bar of semisweet or bittersweet chocolate, cut into small pieces
1/2 teaspoon shortening (like Crisco)
2 - Empty Styrofoam Egg Cartons
PREP
For Truffles
: Place the chopped chocolate in a medium sized stainless steel bowl. Set aside. Heat the cream and butter in a small saucepan over medium heat. Bring to a boil. Immediately pour the boiling cream over the chocolate and allow to stand for 5 minutes. Stir with a whisk until smooth. If desired, add the liqueur. Cover and place in the refrigerator until the truffle mixture is firm (this will take several hours or overnight).
Note
: Orange flavored truffles can be made by adding about 1 tablespoon of orange zest to the hot cream. Let the cream steep for about 10 - 15 minutes and then strain out the zest. Then add Grand Marnier to the truffle mixture. *Drool* (Try to resist taking mid-prep sips of the Grand Marnier. It's hard, but hey, everybody needs a little lifting. :P. Or if you would like your truffles to have a coffee flavor stir about one tablespoon of espresso powder into the hot cream and then add Kahlua or Tia Maria to the truffle mixture. For fruit flavored truffles use 2 tablespoons of fruit puree or jam (raspberry or blackberry) in place of the alcohol.
Place your coatings for the truffles on a plate. Remove the truffle mixture from the refrigerator. With your hands, or else a melon baller or small spoon form the chocolate into round or mis-shaped bite-sized balls. Immediately roll the truffle in the coating and place on a parchment lined baking sheet or tray. Cover and place in the refrigerator until firm. Truffles can be refrigerated for a couple of weeks or else frozen for a couple of months. Bring to room temperature before serving.
Makes 30 small truffles.
To Toast Nuts
: Preheat oven to 350 degrees F (177 degrees C) and bake nuts (pecans, walnuts or almonds) about 8 - 10 minutes or until brown and fragrant. For hazelnuts toast about 15 minutes or until the skins start to blister. Remove from oven and roll in a clean dish towel. Let the nuts 'steam' for about 5 minutes and then remove the skins. Once the nuts have cooled, chop coarsely.
For Chocolate Cups
: It is easier to make the chocolate cups if you first cut each egg carton into the 12 individual egg cups (as in picture). Altogether you will need 24 individual cups. Melt the chocolate and shortening in a heatproof bowl placed over a saucepan of simmering water. Dip the bottoms of the egg carton cups into the melted chocolate. Turn the cups upside down so the chocolate coating is facing up (like in the picture).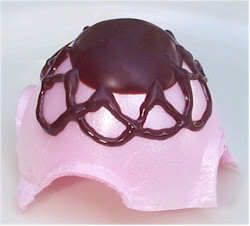 Place the remainder of the melted chocolate into a parchment paper cone with a small opening. Pipe loops around each cup, piping down from the chocolate base and back up. Refrigerate the egg carton cups until the chocolate has completely set. Once the chocolate has set, gently remove the chocolate cups from the egg carton cups. Be careful as the chocolate cups can easily break. Place a truffle into each chocolate cup and refrigerate until ready to serve.
Makes about 2 dozen chocolate cups.